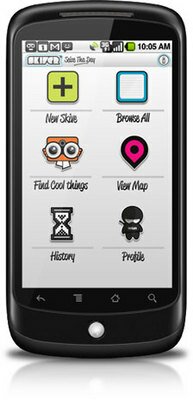 Lying to your boss has never been so easy thanks to Skiver, the newest app for Android launching today 2nd February
Skiver, the latest app from Gateshead based app developer Gospelware, allows users to come up with the perfect cover story to fool their boss into thinking they are genuinely ill and even suggests activities to fill a 'sickie day'.
The first week in February is traditionally the peak time for the winter blues to strike and workers to call in sick. Cold weather, hefty credit card bills and a long wait until summer holidays are all blamed for fuelling a lack of motivation and the urge to take an unnecessary sick day.
Add the fact that three quarters of the country's skivers prefer to fake illnesses on a Monday means the 7th February will be the most popular day of the year for workers to 'throw a sickie'.
Skiver allows users to select how many days off they fancy, delivers a selection of plausible illnesses and even lists symptoms to ensure the user has a full cover story to spin to their boss. There is even a pre-filled email function that can be sent directly to a user's boss to inform them of their absence.
Once the cover story is in place, Skiver uses Google Maps to find current activities in the user's area, from music events and cinemas, to galleries and museums. With Skiver, a sick day will never be wasted lying in bed watching daytime TV again. And to celebrate 'national sickie day', Skiver is free to download from the Android Market during Monday 7th to Friday 11th February. An iPhone version of the app is planned for the near future.
Skiver is the latest design from app developing duo Michael Dunn and Ryan Lewis Davis who launched Gospelware in September 2010. Skiver is the app consultants first own brand release, having previously designed and developed apps for a number of businesses in the UK.
Michael Dunn, Technical Director of Gospelware said: "Skiver provides users with a solid cover story to fool their boss into thinking they are genuinely ill. 25% of bosses now accept an email or text from their employees informing them they are ill rather than the traditional phone call."
Skiver allows users to back up their excuse with symptoms and even the correct number of days required to 'recover' from their fake illness. The pre-filled email function means they can avoid the awkward phone call with their boss and get on with making the most of their 'sickie day' thanks to the what's on function which allows users to views activities in their area using location services.
"Of course we are not encouraging people to take unnecessary sick days, Skiver is a fun tongue in cheek app that is designed to be a leisure time search function for users to find music, film and cultural activities in their area."
-ENDS-
Notes to Editors:
Skiver is available to download through the Android Market for GBP 59p, USD 99c.

Supports handsets running Android 1.6 and greater

Gospelware is a specialist Google Android mobile games and application developer based in Gateshead, Tyne and Wear. The website address is www.gospelware.co.uk

Gospelware are based at Gateshead International Business Centre, Tyne and Wear, a custom built centre aimed at encouraging software and digital business start-ups in the town.

Gospelware was Highly Commended in the Creativity and Design Category in the 2010 Gateshead Blue Print Awards.

For further information please contact Michael Dunn on (+44) 0786 629 5530 or email
Related